Filter by Category
Adults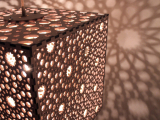 Monthly Maker 1-Year Subscription
with David Mercer
Our Monthly Maker program brings you a guided maker learning activity every month! For each project, we will provide all the tools and materials you need to complete your own build in our makerpsace, plus instructor assistance as needed.
Projects vary from month-to-month, and are typically appropriate for teens and adults. Some projects are also appropriate for older children (ages 9-12), while others children will be required to observe an adult stand-in (for example, using the metalworking shop.)
This program is included in every full individual Huntsville STEAM Works makerspace membership (limit 1 per household for family membership). Typical drop-in rate for non-members to do a Monthly Maker project is $20 per month. This full year subscription for non-members brings you nearly $100 of savings over the course of a year!
Intro to Electronics
with Chris Walls
Electronics are fundamental to modern life. Using live lectures, videos, and hands-on labs, you will see how electronic devices, circuits, and systems work. After studying this course, you should be able to: work with electricity safely, measure and monitor electricity, manipulate voltages, currents and resistances in electronic circuits, identify and demonstrate familiarity with basic electronic components used in simple electronic circuits, understand direct and alternating currents, understand the physics of semiconductors, and predict simple electronic circuit performance.
Skill Share: Calligraphy
with Chris Walls

Next available session starts Nov 21, 2019 at 6 pm

, runs for 1 week
Calligraphy adds creative flair to correspondence, parties, decorations, art projects, and more! Learn more about this ancient, yet popular and contemporary art in this week's skill share!
You will be introduced to the basic calligraphy alphabet, learn beginner techniques you can use to practice making letter forms, learn about the tools and materials every calligrapher needs as well as how to hold and use the pen, starting with basic strokes.
If you want to add special flourish to your handwritten projects, this Calligraphy skill share is the perfect place to start!