Filter by Category
High School
Color Theory
with Jessica Nunno

Next session starts Feb 9, 2018 at 4:30 pm

, runs for 12 weeks
In this 12 week class, teen students will use acrylic paint to learn about color and light from Huntsville STEAM Works in-house artist Jessica Nunno. Students will work from life to create works to explore theory-based color schemes (such as primary, complementary and analogous colors) with an interplay on contrast, shadow, and light. A $15 materials fee is required for this class.
12 ninety-minute sessions. No class the week of March 26th.
Digital Illustration
with Shawn Sykes

Next session starts Feb 6, 2018 at 12:15 pm

, runs for 12 weeks
Utilizing a drawing tablet, students will learn to create digital raster or vector artwork in different digital programs like Krita, FireAlpaca, and Inkscape. This class is appropriate for late elementary through early high school students with basic drawing experience.
Class does not meet on March 27.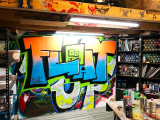 Introduction to Street Art
with Peter Lucker

Next session starts Jan 30, 2018 at 10:30 am

, runs for 5 weeks
In this introductory 5-week session, teen students will touch on the basics of street art, its history, and make some street art pieces of their own to take home. Please note that class sessions are 90 minutes, and an additional $15 materials fee is required. Materials used include spray paint, stickers, stencils, canvas, and oil-based paint pens.