Filter by Category
Homeschool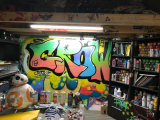 Street Art
with Peter Lucker

Next session starts Jan 21, 2019 at 10 am

, runs for 10 weeks
In this class for homeschooled teens, students will learn about history and techniques of street art from local Huntsville street artist Pete "Float" Lucker. Not to be confused with graffiti or vandalism, street art is visual art created in public locations, informally or formally sanctioned.
In this ten week course, students will be exposed to a variety of street art and learn techniques such as creating stencils, both by hand and with technology, applying spray paint, using digital tools to assist with art creation, and creating art on various surfaces, including canvas, found objects, and stickers.
This class is priced to include a $20 materials fee. Materials are provided, but students may wish to bring found objects or additional paint colors from home.
No class February 18th (Presidents Day) or March 18th (Spring Break).
Tinker Lab
with Jessica Nunno

Next session starts Jan 17, 2019 at 10 am

, runs for 15 weeks
Homecshooled students in grades K-3 will learn about simple machines and basic physical science concepts in this engineering mashup course through a variety of different hands‐on activities such as domino builds, bridge engineering, marble runs, tinker cars, and more!
No class 3/21 (Spring Break).
WeDo Robotics
with Jessica Nunno

Next session starts Jan 15, 2019 at 11 am

, runs for 15 weeks
This robotics course intended for homeschooled students in grades K-3. This is our non-competition, casual robotics class for young learners. Students will learn about robotics one hour weekly using LEGO WeDo Robotics. hands-on solution that ignites students' curiosity, while enhancing their skills in science, engineering, technology, and coding.
No class 3/19 (Spring Break).