Filter by Category
Memberships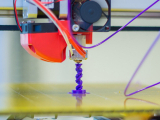 3-Month Membership
with Micheal Hartman

Next session starts Jan 3, 2018
2 additional sessions through Mar 1, 2018
Join the Huntsville STEAM Works community as one of our valued members! Membership run on a three-month commitment basis, and begin on your chosen start date. Basic "Tinkerer" level membership includes:
2 Hours Scheduled Time on Laser Cutter
4 Hours Scheduled Time on 3D Printer
PLUS unscheduled time on laser cutter and 3D printer on a first-come, first-serve basis.
Available Member Upgrades Include:
Journeyman: Add Woodshop Access (or Metalshop, available this spring)
Artisan: Metalshop and Woodshop Access (available this spring)
Member hours are:
Wednesdays & Thursdays: 12pm - 6 pm
Fridays: 12 pm - 8 pm
Saturdays: 10 am - 6 pm
Please note memberships can begin no earlier than 1/3/2018.